Love the limit.
Hypersports are the pinnacle of motorcycle engineering. But without a set of tyres that can put these levels of performance to the tarmac, their technology is almost in vain. This is where Battlax Hypersport S21 comes in. Under any and every circumstance. And with no compromise on safety, pleasure or life span.
The result? A hypersports motorcycle that's happy to take you to the peak of its ability. Beaming with confidence.
State-of-the-art compounds
For both the front and the rear, compounds have been used developed specifically to provide maximum security even at very high lean angles.
On the front, 3LC (triple-layer compound) gives you maximum braking stability, straight-line handling and high mileage on the central part of the tread, with a soft compound on the shoulder for cornering stability. In the rear, 5LC technology (5-layer compound) is used. And this is how it works: in the central part of the tread, a compound optimised for greater stability, handling and high mileage; a medium compound on the shoulder provides maximum traction for rapid acceleration out of corners; edges with exceptional grip allow you to tackle the highest lean angles in complete safety.
Key features & benefits
• Reassuring wet performance
• Extreme dry-condition overall performance
• Superb cornering stability
• Shorter line precision
• Safety and confidence
• Higher mileage with upgraded performance
Ultimate Eye
Ultimate Eye (U-EYE) is the newly developed indoor testing facility by Bridgestone R&D. S21 is the first commercial available tyre to benefit from this. U-EYE visualizes the behavior of the tyre under different speeds and conditions, analyses contact patch pressure distribution and helps find the optimal combination of compound, tread design, construction and profile.
On track
The performance of the new Battlax radial has been tested on the track in both dry and wet conditions. The comparative tests performed by Bridgestone against the S20 EVO show the greater stability of the S21, which allows a significantly higher cornering entry speed, while keeping a more precise line and allowing faster acceleration out of the corner, cutting the average lap time by almost 2%. The S21 represents a step forwards in terms of performance in the dry, particularly for cornering stability and handling, but that's not all: these improvements give a 36% improvement in mileage.
Technologies subject to sizes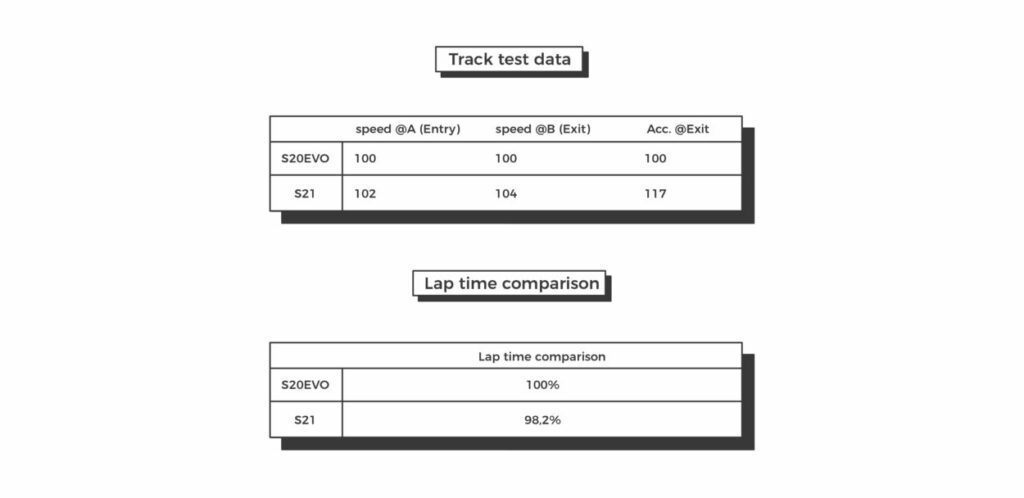 à Technologies subject to sizes