Unleash performance.
The Battlax Hypersport S22 allows riders to experience the full extent of their bike's performance on the road. Here, you want light handling, excellent cornering performance and tons of confidence through maximum connection to the road. The new molecular compounding technology and innovative grip pattern ensure ultimate enjoyment on dry roads, with targeted water drainage to ensure safety in the wet.
New pattern design
In order to improve water drainage and block rigidity, the Sea/Land ratio in the shoulder area has been optimized. On top of that the 3D groove design, positioning and angle aim for ideal surface deformation and rigidity.
Cutting edge compounds
In both the front and the rear, the compounds have been developed specifically to provide maximum security even at very high lean angles and in a wide range of conditions.
On the front, 3LC (triple-layer compound) gives you maximum braking stability, straight-line handling and high mileage on the harder central part of the tread, with a soft compound on the shoulder for exceptional roadholding on corners. The new center compound gets optimized resin components in order to boost these grip characteristics even further.
In the rear, 5LC technology (5-layer compound) is used. And this is how it works: in the central part of the tread, the compound is aiming for stability, handling and high mileage. This compound adopts a new, molecular approach that generates a 25% higher silica molecule ratio. The medium compound on the shoulder then provides maximum traction for rapid acceleration out of corners. This traction area has received a resin upgrade in order to maximize grip levels. But the truly exceptional grip is to be found at the edges. This compound will allow you to tackle the highest lean angles in complete safety.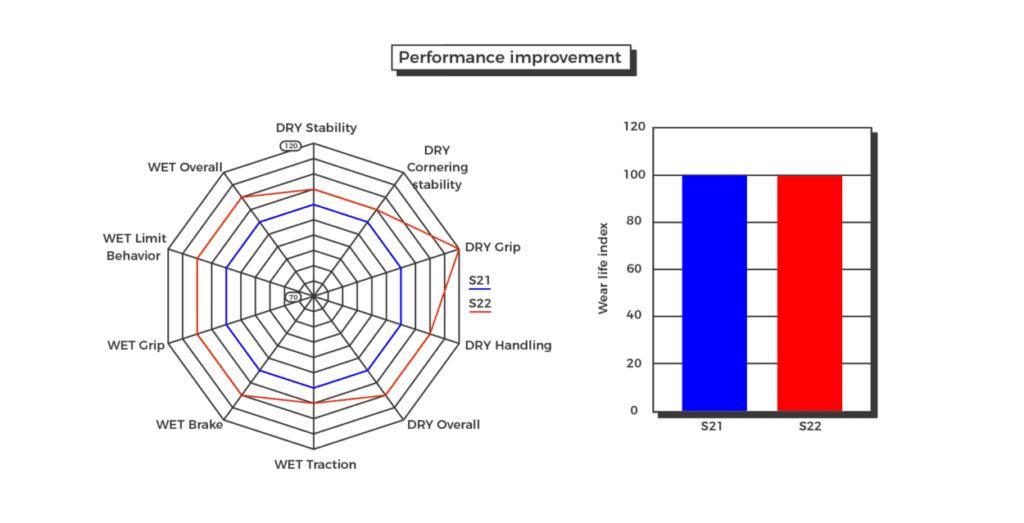 Key benefits
Improved water drainage
Ultra-light handling
Increased feedback in wet and dry conditions
More grip across different temperature levels
Higher cornering speeds
No sacrifice on lifespan
Touching the surface