Once more an epic EWC race with exceptional efforts made by the Bridgestone teams, YART, Yoshimura and FCC! Despite the challenges faced during the race, we are thrilled to look back on a strong performance.
September 18th, 2023
YART Yamaha EWC Official Team is the winner of the 2023 FIM Endurance World Championship following a tense climax to the season at Circuit Paul Ricard yesterday afternoon as Yoshimura SERT Motul won the 86th Bol d'Or.
Austria-based YART was one of six teams in EWC title contention starting the legendary 24-hour event, but it endured a nervy conclusion to the race due to a temperature issue that forced the team to make multiple pit stops for running repairs.
With defending champion F.C.C. TSR Honda France retiring at 03h30 following a technical failure and the BMW Motorrad World Endurance Team dropping out of the lead fight due to two unscheduled pit visits, YART essentially needed a top-nine Formula EWC finish to secure the EWC's biggest prize.
Running with a special livery to commemorate the 25th anniversary of the Yamaha R1, the Bridgestone-equipped YART trio of Niccolò Canepa, Marvin Fritz and Karel Hanika rode faultlessly, eventually finishing in fourth position to secure EWC gold, having held the race lead on numerous occasions.
"The team did an amazing job, I'm really proud of them and my team-mates were riding superbly," said Czech Hanika. "Big thanks to Yamaha for this opportunity. Every rider participates in this championship because they want to win and that's why we are here trying to do our best."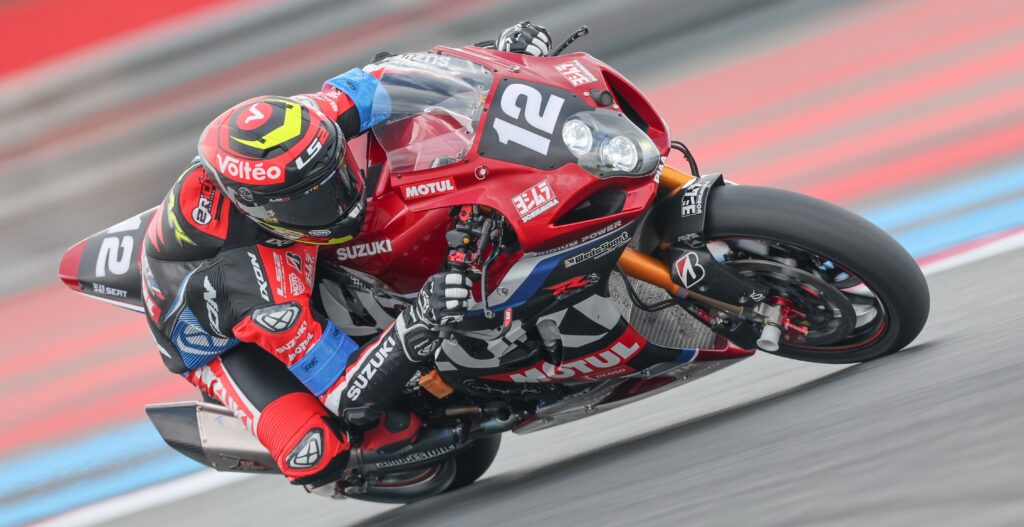 Having experienced a season of more lows than highs, Yoshimura SERT Motul was determined to end the 2023 campaign on top of a race that would mark Sylvain Guintoli's final EWC outing with Suzuki power. Despite Gregg Black and Étienne Masson competing as a duo for the final nine hours after Guintoli fell ill, Yoshimura SERT Motul triumphed by a clear margin. That was despite Black being one of eight riders to fall on oil at the end of the Mistral Straight yesterday morning, which triggered a lengthy safety car period.
"It's incredible," said UK-born, France-based Black. "We've had a pretty hard season but we've been performing, so to finish the season like this with this result is just incredible. The team did a great job, my team-mates also. It was a hard one but we got it and we got the pace and we could win the Bol d'Or. We're really happy."
Having taken the coveted EWC crown at Circuit Paul Ricard 12 months ago, F.C.C. TSR Honda France hit trouble shortly before 3am when Mike Di Meglio was forced to push the #1 Honda after it stopped at the entrance to the pitlane. Despite its best efforts, the team was forced to retire with a terminal technical issue at 03h26. Along with team-mates Josh Hook and Alan Techer, Di Meglio knew hopes of another EWC title would be salvaged if its main rivals also stopped. In the event, it was a frustrating finish to an otherwise strong season.
"From the entire Bridgestone crew, we want to congratulate all of the Bridgestone teams for their fighting spirit throughout the season!" Nico Thuy, Bridgestone Moto