There is no doubt that history contains many magnificent motorcycling moments. Perhaps you are now spontaneously thinking of a specific moment. In our blog series Bridgestone moments, we would like to take you on a trip down memory lane. Are you ready to relive a series of great stories that detail some of the most memorable moments in motorcycle history, in which Bridgestone played a significant role? Sit back, relax and enjoy these epic throwbacks.
---
Relive
the iconic battle between Valentino Rossi and Casey Stoner at Laguna Seca in 2008
At the 2008 US MotoGP Valentino Rossi and reigning world champion Casey Stoner produced a battle that race fans will never forget. In the end, The Doctor became the King of the Corkscrew, winner of the US Grand Prix and 2008 World Champion!
The game was one in Laguna Seca
Following back-to-back MotoGP title defeats to Nicky Hayden in 2006 and Casey Stoner in 2007, an invigorated Rossi faced off against the defending world champion from the beginning of the 2008 season. Stoner recovered from a slow start to the season with a hat-trick of wins, pole positions and fastest laps between the Donington Park, Assen and Sachsenring. Heading to the US Grand Prix in Laguna Seca, the game was on. Rossi was still in the championship lead, but Stoner was on fire!
From the start
The weekend didn't start well for Rossi. Casey Stoner produced imperious pace during practice on his way to pole position with Rossi in a distant second place. Knowing he had to disrupt this rival's rhythm, Rossi opted to attack from the start and with Stoner responding, both riders produced one of the most famous MotoGP battles of all times.
Looking back on that 2008 United States MotoGP, Rossi today still thinks the race at Laguna Seca was crucial for his title charge that season.
"That race was a special victory because in that moment Stoner was really, really strong and he beat me in 2007 and won the championship with Ducati," Rossi says.
Turning point 
"For me, after a long winning streak, I lost the title in 2006 and 2007. So, 2008 was a crucial season. I switched from Michelin to Bridgestone and the battle with Stoner started from the first race. When we arrived at Laguna Seca, I knew that this weekend would be a turning point for the rest of the championship. Stoner was incredibly fast on that track."
"I pushed as hard as I could from the start", The Doctor remembers. "I think the key to success was to try and stay in front and try to induce my own rhythm on the race. Laguna Seca is very difficult for overtaking because it's such a narrow track."
Legendary Corkscrew pass
The battle between Rossi and Stoner was furious from the beginning with both riders dicing for the lead and riding on the limit. It was a thriller from lap one with both riders on equal Bridgestone slick tires. Still, the race is remembered for a stunning overtake Rossi pulled off on lap four. The Italian overtook Stoner just before the infamous Corkscrew, ran slightly wide over the curbstones and off track, but he managed control his Yamaha and hold on to the lead. The daring pass shook up Stoner and shortly after he made a mistake running wide and that was the end of the battle. Stoner even made another mistake and dropped his bike in the sand, but still came in second.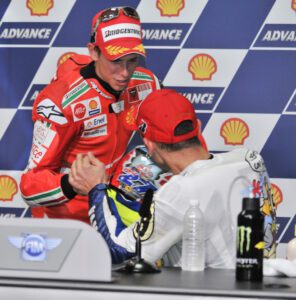 However, Rossi won the GP and went on to win the championship. With the victory at Laguna Seca, he extended his lead to 25 points which set up a run of six wins over the next eight races. After Laguna Seca, Rossi stormed to the 2008 world title. "I think the win in California was crucial for the 2008 championship and one of the most important in my career", Rossi stated in 2018. He still sees Stoner as one of the greatest MotoGP rivals of his career: "The rivalry with Casey was great because he was one of the greatest talents ever in MotoGP. Without a doubt, he was one of my strongest rivals." Rossi acknowledges.
"Lesson learned"
Now retired from competition, Stoner still remembers that afternoon of July 20, 2008 in California, confessing that it was also decisive for his development as a rider. After the race Stoner commented that "not all of Rossi's passes were ok", but looking back at the race now, the Australian has a different perception. "Honestly, I learned a lesson from this race. I have thought about this moment a lot and realized what it was all about and, just as important, how he could pass me there in the first place. From then on, I never let anything like that happen again. The experience I gained from it, helped me raise my level."
It was a memorable and hard-fought victory from Valentino Rossi, who made the most of his first year on Bridgestone tyres. A moment in history that is etched in the memory of every motorbike enthusiast.
Look at the highlights of this iconic race here: