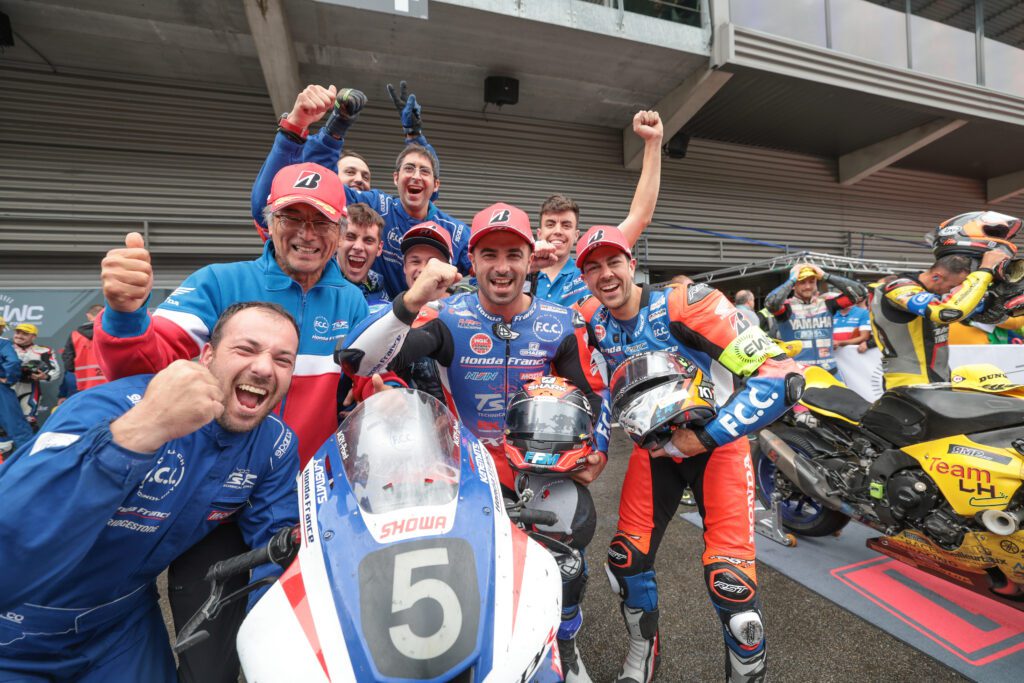 There was non-stop action and drama when the FIM Endurance World Championship returned to Circuit de Spa-Francorchamps for the first time in 21 years as the Belgian track delivered a race that matched up to its legendary status.
The circuit's ultra-challenging nature and rain for the final five hours combined to ensure rider skill came very much to the fore in the 24H SPA EWC Motos.
F.C.C. TSR Honda France was holding off Yoshimura SERT Motul for the final podium spot as both squads battled back from major setbacks during the night. A lengthy red flag period to enable the clean-up of a substantial oil spillage with less than three hours meant Gino Rea would have only a handful of laps to reclaim the third place he lost to home hero Xavier Siméon in the pitstop sequence prior to the race suspension. Despite the challenging track conditions, Rea and Siméon engaged in an intense battle for position with Rea coming out on top following several changes of position. The result means Suzuki-powered Yoshimura SERT Motul, the winner of the FIM Endurance World Championship last season and April's 24 Heures Motos at Le Mans holds a 15-point advantage in the title chase heading to August's Suzuka 8 Hours.
Yoshimura SERT Motul had been on top after 10 hours only for Sylvain Guintoli to be forced to pit for a replacement clutch and gearbox for his Bridgestone-equipped Suzuki GSX-R1000R. The work took more than 25 minutes to complete and wrecked hopes of a home win for the team's Belgian rider Siméon in the process. F.C.C. TSR Honda France took advantage of the misfortune that hit its fellow Japanese team but there was despair when Rea was onboard the CBR1000RR-R Fireblade SP as the chain failed after 15 hours of running. It left the Briton with no choice but to push his stricken bike back to the pits. That long delay plus the 15 minutes spent making repairs dropped F.C.C. TSR Honda France down the order before its late comeback.
Worse was to come for both squads when Anglo-Frenchman Gregg Black and Mike Di Meglio, from France, crashed their Suzuki and Honda respectively in quick succession as the Sunday morning rain intensified. Black managed to limp his wrecked machine back to the pits for rapid repairs while Di Meglio was able to continue without stopping having only inflicted limited damage to his bike.
Having started from pole, YART – Yamaha Official Team EWC was forced into an unscheduled pit stop for a replacement speed sensor after three hours. Despite the delay of more than four minutes, the performances of its riders Niccolò Canepa (Italy), Marvin Fritz (Germany) and polesitter Karel Hanika (Czech Republic) put the Austrian team back into contention. Following a battle for the lead between Fritz and BMW rider Mykhalchyk, it was Bridgestone in front after 18 hours. But the advantage would not last when the YZF-R1, with Canepa onboard, suffered engine failure. YART was unfortunately forced to retire after 18 hours of pure racing.

Thrilling start as EWC makes SPA return in style
The 24H SPA EWC Motos, which revived the spirit of the famous 24 Heures de Liège, began with a spectacular Le Mans-style running start in front of the packed main grandstand and in blazing sunshine. The opening hour then delivered stunning action and multiple lead changes. The entire Bridgestone supported top 3 – Gregg Black, Marvin Fritz, Josh Hook – took their turn in front as breath-taking multiple overtakes thrilled fans trackside and watching the live broadcasts around the world.

How the bonus points were awarded
In EWC races with a duration of 12 to 24 hours points are awarded after eight and 16 hours in Formula EWC. This means Yoshimura SERT Motul takes first place, followed by F.C.C. TSR Honda France in second place and YART – Yamaha Official Team EWC in third place in the provisional EWC standings after round 2.

What's next: SUZUKA 8 hours, Japan, 5-7 august
The Suzuka 8 Hours is back on the FIM EWC calendar in 2022 having not taken place since 2019 due to the global health crisis. Operated by Honda-owned Mobilityland, Suzuka features a unique figure-of-eight layout and presents a considerable challenge for riders thanks to its wide variety of corners. Opened initially as a test track for the Japanese motor giant in 1962, the venue hosted the first edition of the famous Suzuka 8 Hours motorbike race in 1978, nine years before staging its first Japanese Formula One Grand Prix. The Suzuka 8 Hours has been a popular feature on the EWC calendar and a key fixture on the international calendar since with leading grand prix motorcycle racers taking part – and winning – over the years. Looking forward!
© www.fimewc.com