One year after an official world record was set on the MV Agusta Turismo Veloce with Bridgestone T32 tyres, there will be a new attempt to reach the highest number of countries in one day. On the same bike and with the same tyres, Belgian Thierry Sarasyn will try to visit 14 countries in less than 24 hours. The attempt is scheduled for Sunday June 19.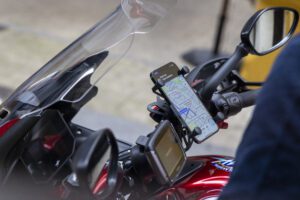 The record attempt will be officialized by the Legendstracking system, a tracker that is used for official record attempts and tracking of ultra-runners, cyclists, and triathletes. The system sends out a signal every minute so the road travelled can not only be checked, but also followed through this link. A legal representative will check these data and based on his evaluation; the national federation will also recognize the record.
The trip will take the Belgian to the following countries: Czech Republic, Slovakia, Hungary, Croatia, Slovenia, Italy, Austria, Liechtenstein, Switzerland, Germany, France, Luxemburg, Belgium, and Holland.
"If I get to Luxemburg, the record will be broken. I hope to be able to do 200 more kilometers and adD Belgium and Holland to the list. There's been a lot of talk about riders doing 14 or 15 countries in non-controlled circumstances. I hope to be able to set the record straight in many ways. This trip will be fully controlled and with respect for all legal speed regulations in every country."
Nevertheless, Sarasyn has his work cut out for him. He will have to travel about 2000 km in less than 24 hours. "I hope to get as much daylight as I can", he says. "I'm riding on a Sunday which will hopefully mean there's less traffic. And daylight starts earlier in the east, while it gets dark later in the west. I should get around 19 hours of daylight on this trip."
The existing world record was also set on an MV Agusta Turismo Veloce with Bridgestone T32 sport touring tyres. If the attempt to break the record is not successful, they'll still be world record holders. "But I'm quite confident it can be done", says Sarasyn. "I even think 15 is possible. But let's first see how this turns out. Maybe I get bored later this summer and have another go. The preparation is done, now it's just about the riding. That's the best part!"